Firstly have 1998 Vmax full power imported from Japan. The carbs needed cleaning, which was done, but I made two mistakes.
a. I did not make a note what jets were fitted, in particular main and pilot.
b. I ordered 4 rebuild kits, off eBay from China, and the old adage "Buy cheap, buy twice" springs to mind.
One of the kits is missing the gasket and 2 rubber bungs, not the end of the world but the pilot jets are unmarked and all look the same; I inserted a sharpened wire and seems the holes are same diameter. The main jets are GL87 x 8, GL94 x 3 and 1 unmarked, so not four sets of 3.
The kit should contain main jets in 3 sizes: 150/152.5/155 and pilot jet is also 3 pieces:37.5/40/42.5.
To be fair, the cost of the kit from China is about the cost of 2 main jets from UK so I suppose for the parts that can be used it is not money totally wasted.
Anyway, to get myself out of this hole, I'm going to need some help.
1. What jets should be fitted?
Manual lists European and US, which is neither:
Vmax carb :Mikuni BDS35
Main jet European: 150 US 152.5
Pilot Air jet 1: European 95 US. 90
Pilot jet European 42.5 US. 37.5
I may be able to buy the main jets separately, so should I get US or European? (I think the only way is to take the carbs off again ARRGGGGHHHH - or buy both sets). In theory I should not need to after being cleaned but just in case.
2. What effect does would fitting 152.5 instead of 150? And vice versa?
3. What is meaning of main jet GL87 and GL92
4. I've located source of Mikuni jets, which look like they are correct but only have dimensions as below, are these correct for Vmax carb?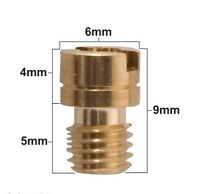 5. What effect would fitting 42.5 instead of 37.5 have, and vice versa
Thanks in advance.